New and Coming Soon
All movie and TV premiere dates are for the US, but hopefully this will still be helpful for those of you in other parts of the world as well, to give you an idea of what you might be interested in seeing.
Movies:
Miss Peregrine's Home for Peculiar Children [PG-13] - Sept. 30
Inspired by the book of the same name, this film follows a group of youngsters with peculiar abilities who live at an orphanage on a little island off the coast of Wales. Directed by Tim Burton, you can expect this movie to be both weird and fantastical, and of all the movies I'm covering in this month's magazine, this is the one I'm looking forward to the most.
Deepwater Horizon [PG-13] - Sept. 30
Based on the true events surrounding one of the worst oil spills ever, this movie focuses on the men and women who were working on the oil rig when everything went wrong. While I'm a little unsure what I think about turning an environmental crisis into a hit movie, I have to admit that this looks very good from the trailers I've seen.

The Birth of a Nation [R] - Oct. 7
When Nat Turner, preacher and slave, reaches his breaking point, he turns to using his persuasive preaching to raise up an army of slaves in an uprising, attempting to bring freedom to his people. Based on a true story, this movie is the second major historically based film this year to focus on the South in the time surrounding the Civil War, this time on events that occurred about thirty years prior to the war.
The Girl on the Train [R] - Oct. 7
Rachel rides the train to work and fantasizes about a couple she sees out her window each day in passing, but when the woman goes missing, Rachel tries to uncover the truth behind the disappearance. This is based on the best-selling novel, and I can't honestly recommend this to anyone since I hated the book, but if you liked the book, you'll probably like the movie.

Middle School: The Worst Years of My Life [PG] - Oct. 7
If you're not into history or mystery/thrillers, or if you're too young to get into an R-rated movie without your parents, then this might be your best option of the movies opening this coming weekend. As the title suggests, this is the story of a middle school kid and his friends, who decide to mount an insurrection to get back at their less-than-stellar principal and teachers.
The Accountant [R] - Oct. 14
Starring Ben Affleck as a math savant who secretly works for several of the world's worst and deadliest criminal organizations, this action thriller looks to be a movie that will keep you on the edge of your seat. When the Treasury department starts getting too close, he takes on a legitimate client, but that just might turn out to be the most dangerous case he's ever had.
Jack Reacher: Never Go Back - Oct. 21
If you like Tom Cruise but the Mission: Impossible movies don't have enough violence to satisfy you, then you could try this newest installment of the Jack Reacher films. In this movie, Reacher is trying to uncover a government conspiracy in order to clear his own name, and digs up more than he was expecting to find.

Inferno [PG-13] - Oct. 28
Based on the book, and a sequel to The Da Vinci Code and Angels & Demons, this movie stars Tom Hanks as a professor who once again is trying to save the world. Between solving a riddle hidden in a series of famous works of art, figuring out what happened in the past few days that he has no memory of, and trying to stop the end of the world, he'll have his work cut out for him.


Television:
❊Shows with an asterisk are new this year.
❊Marvel's Luke Cage, Season 1 - Sept. 30
You've already met him in Marvel's Jessica Jones - the man with super strength and bulletproof skin. Now Luke Cage is headlining his own series, which looks intense, and also very awesome. Younger viewers be warned: Netflix superhero shows tend to be much darker and grittier than their network counterparts, so expect this show to be rated TV-MA.
Elementary, Season 5 - Oct. 2
The fifth season of this reimagining of Sherlock Holmes comes to CBS this month. Set in modern day New York, this show does a good job of maintaining the essence of the original stories while very much doing its own thing.
❊Conviction, Season 1 - Oct. 3
Following a unit investigating possible wrongful convictions, this legal drama premieres on ABC this month. If, like me, you're sad that you won't get to see Hayley Atwell kick ass as Peggy Carter anymore, perhaps you'll want to tune in to see her kick ass as a lawyer instead.
❊Timeless, Season 1 - Oct. 3
Developed by Eric Kripke (of Supernatural fame), this new sci-fi drama premieres this month on NBC. When a criminal steals a time machine in order to go back and change the past, a historian, a soldier, and a scientist must travel back through time to save the present.
❊No Tomorrow, Season 1 - Oct. 4
What would you do if you were convinced the world was going to end in just over eight months? That's the premise for this new CW comedy, which follows a straight-laced girl who gets involved with a guy who's convinced that the apocalypse is coming, so you might as well live like there's no tomorrow. To be honest, I'm mostly going to be watching this for Joshua Sasse, but it does look pretty entertaining.
Arrow, Season 5 - Oct. 5
This is the superhero show that really kicked off the recent spate of comic-book shows, following Oliver Queen (the Green Arrow) as he seeks to protect his city. Season 5 promises to introduce some new characters to the crime-fighting team, while the flashbacks each episode will reveal what happened during Oliver's time in Russia. I've loved this show since the beginning, and I'd encourage you to tune in Wednesday nights on the CW to catch all the action.
Supergirl, Season 2 - Oct. 10
This fall, Supergirl moves to the CW. This show is lighter in tone than most of its counterparts, which is refreshing. The season season will introduce several new characters, one of whom is arguably the most famous superhero in the DC universe. (And if superhero shows are your thing, make sure to also catch the third season of The Flash, premiering Oct. 4, and the second season of DC's Legends of Tomorrow, premiering Oct. 13, all on the CW.)
Chicago Fire, Season 5 - Oct. 11
The fifth season of this firehouse drama premieres on NBC this month, following the lives of the members of Firehouse 51. If you're a fan of 'One Chicago' (the set of Chicago-based shows that overlap with each other on a very frequent basis), then this show is a must-watch, especially as it's the show that started it all.
Fresh Off the Boat, Season 3 - Oct. 11
Season 3 of this comedy comes to ABC this fall, following the continuing adventures of a Taiwanese-American family living in Florida. If you're looking for a good family comedy, I'd suggest checking this show out.
Supernatural, Season 12 - Oct. 13
Twelve seasons in, this is no longer the show I originally fell in love with, but for those of you still watching, Supernatural is back on Thursday nights on the CW. Tune in to watch Sam and Dean battle angels and demons, as well as other creepy things that go bump in the night.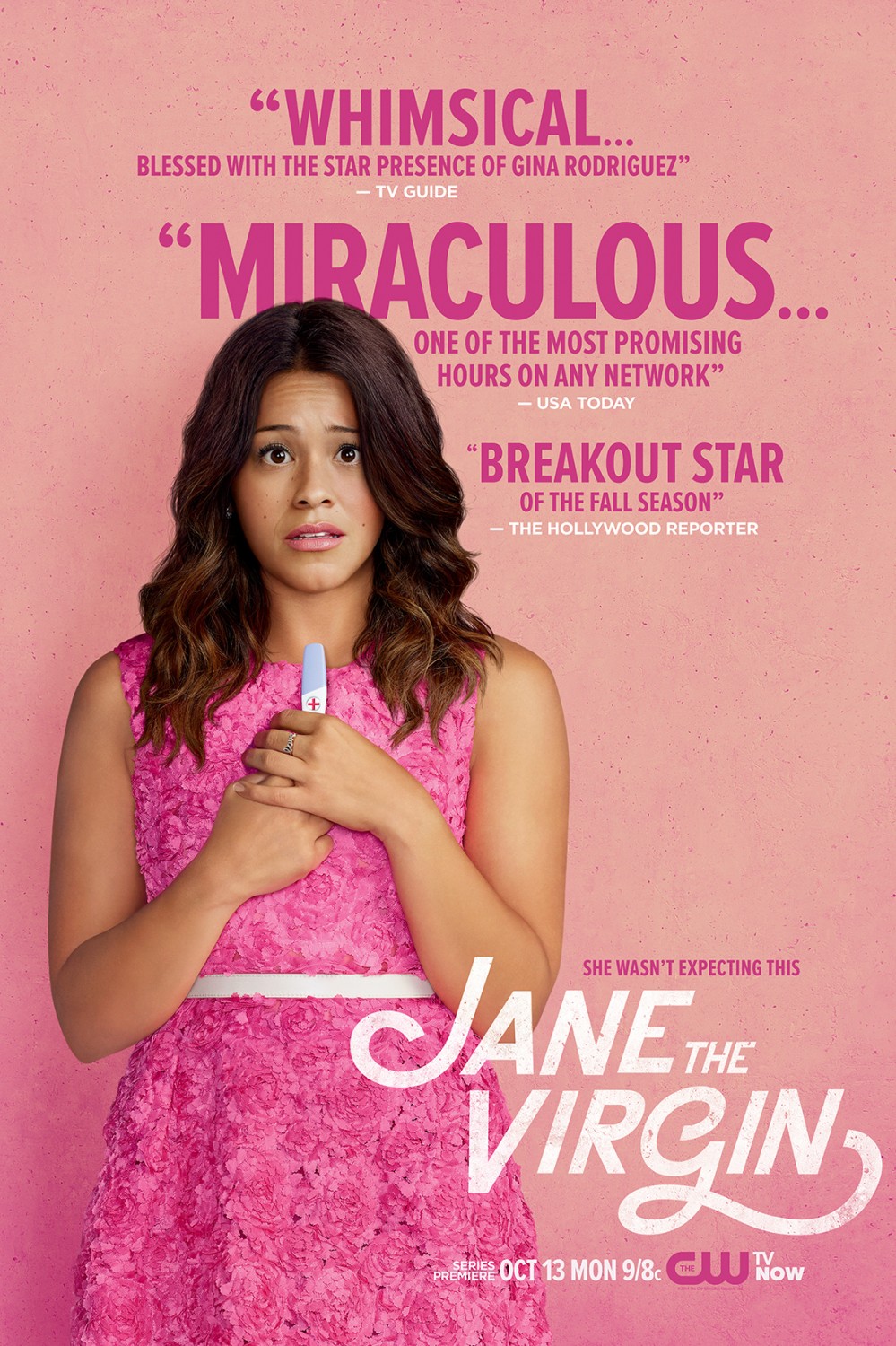 Jane the Virgin, Season 3 - Oct. 17
Quirky, funny, sweet, and more than occasionally soapy, this is my guilty pleasure show... The third season premieres on the CW in the middle of the month, with the continuing adventures of Jane and her family and friends. The family dynamics are great, the plot twists are ridiculous, and if this show doesn't make you smile, you're lacking a heart.
❊Chance, Season 1 - Oct. 19 Hulu
If you miss watching Hugh Laurie play a doctor, then you'll be happy to know that he's back in the lead role of this new Hulu series. Dr. Chance is a forensic neuropsychiatrist, but rather than focusing on the medicine, this show looks like it will be more of a psychological thrill ride, so if that strikes your fancy, you might want to give this show a try.
❊Dirk Gently's Holistic Detective Agency, Season 1 - Oct. 22
Very, very loosely based on Douglas Adams' book of the same name, this show revolves around the adventures of the titular character, Dirk Gently, who just so happens to be a very odd private investigator. Also along for the ride is his new sidekick, Todd, who is less than thrilled to be a part of things. If you loved the book, you might want to avoid this show, as it looks absolutely nothing like its source material. However, if you have no previous attachment to the material, maybe this show is for you.

The Walking Dead, Season 7 - Oct. 23
If you don't know what this show's about, you've been living under a very large rock for a lot of years now. Just in case, let me explain... No, there is too much. Let me sum up. Zombies. The worst of humanity. The best of humanity. More zombies. That's pretty much the show. Season 7 comes to AMC at the end of this month, so the wait is almost over… (Kids, this show is very much TV-MA. You've been warned.)

Life in Pieces, Season 2 - Oct. 27
The second season of this CBS comedy premieres at the end of this month. Each episode of this show features four vignettes, one from each household in the Short family, and it's surprisingly funny and an entertaining take on family interactions.
Kris Shah