Quidditch Player of the Issue - Caroline Hardy
Quidditch Player of the Issue - Caroline Hardy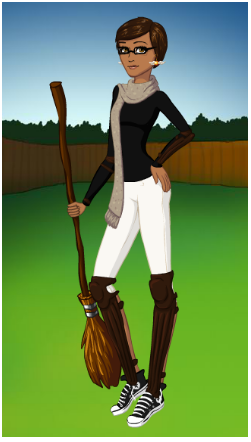 Anyone who keeps up to date with the British Quidditch League will immediately recognise this girl as Caroline Hardy, star Chaser of Kent Kings. One of the longest-standing members of the team, she has worn the trademark bright blue Kent robes for over seven years now, having first joined the first team back at the start of the 2009-2010 season. It is widely believed that she will take over as captain following Jacob Harris's retirement at the end of this season.
Hardy attended Hogwarts from 2000-2007, during the slightly unsettling period of time following the end of the Second Wizarding World War. She was sorted into Slytherin house and, whilst she wasn't the best student academically, she really came into her own on the Quidditch pitch, joining as a Chaser in her second year and remaining on the team for the duration of her years at school. She captained the team for her last three years and remains to this day one of the highest-scoring Chasers in Slytherin history.
Upon graduating Hogwarts with three NEWTs in 2007, Hardy immediately joined her local non-league Quidditch team where she trained hard alongside working part time in retail. She was quickly snapped up by the Kent Kings youth scout however, having heard about her incredible talent during her Hogwarts years, and she trained with the Kent Kings Youth Academy for a couple of years. Impressed by her dedication and talent, she was promoted to the main team for the 2009-2010 season, when one of the original Chasers moved to Australia. Since then she has been a wonderful asset for the team, popular with her fellow players and fans alike. She has scored numerous goals for the side and has consistently been one of the top goal scorers in the British League for a number of seasons now.
Hardy became even more well-known in the wizarding community after speaking out about women's rights following her year long leave from professional quidditch during 2015 to give birth to her daughter Eleanor. There was much speculation over whether she'd be fit enough to return to Quidditch, but she remained firm in her determination to do so, and proved her critics wrong when she played against the Gwynedd Giants back in January 2016, scoring a number of goals and proving that she was back for good.
Alongside her Quidditch career, Hardy is an avid feminist and speaks passionately about women's rights, especially in sport. She is married to fellow Quidditch player and childhood sweetheart Liam Davies, and their daughter Eleanor celebrated her second birthday this month.
Speaking in a recent interview, Hardy said, "Yes, of course there have been sleepless nights, but Ellie is honestly the best thing that has ever happened to me and Liam and I are having great fun adjusting to our new roles as parents. I'm so glad that we chose to have her now, even though there are a number of people who think doing so 'sabotaged my career'. Personally, I think I've been playing some of my best Quidditch ever, and honestly those people need something better to do than slam me for exercising my right to make my own decisions regarding my body and my life."
So, keep an eye out for Caroline Hardy when Kent Kings go up against the Glasgow Ghouls next month, for you won't be disappointed!
Grace Waterson